Jentroy's Awesome Software Products
Use our feature-rich products to streamline your business
Software development is not just hiring software engineers to write codes! It is an experience that puts the right elements of software engineering practice combining architecture, technology, domain knowledge and processes making software works for years. We bring several years of software engineering experience to our customers to build the projects that they outsource to us
Retailman

Point of Sale System

Retailman fits any business, it converts your PC into a powerful Point of Sale Software with Inventory control and Accounting. Whether you are a single user with a small kiosk, or the owner of retail chains; whether you have less than a hundred or several thousands of items, Retailman is absolutely for you. Are you ready to grow your business to hundreds of stores? With the help of Retailman, we are confident that you can.
Attach standard POS hardware such as a Docket printer, Barcode Scanner, Cash Drawer, Pole Display, Scales and Touch Screen to create a POS system with one or more POS stations.
With our POS, you can manage Retail Shops, Restaurants, Coffee Shops, Quick Service Restaurants,Bars,Food Trucks,Boutiques,Bakeries,Cafés,Liquor Stores e.t.c.
Give us a call and our team will show you how Retailman can work for your business.
Electronic Document Management System

Instantly locate, share & secure your vital business/organization's documents with our Document Management System. Having documents stored on local drives, on network servers, in emails, and on File Shares creates chaos and exposes you to risk. No one knows who has the most current copy, and no one can be sure all the copies are deleted according to retention policies.
Jentroy's DMS is the imaging leader and first choice for all paperless office solutions, providing innovative document management solutions that enable companies to scan, store, retrieve, and use information more efficiently, accurately, and securely.
Our Document Management solution bridges the governance gap left by file sharing services and eliminates inconsistent information processes by allowing organizations to implement security controls, policy integration, user permissions and a defined structure.
Imagine your operation team retrieving all critical documents associated with your organisation instantly without leaving their desks — no searching for folders in filing cabinets, no more trips to warehouses or offsite storage to retrieve archived paper documents.
Go green, save office space, and clean up file cabinets with Jentroy's Professional Services's electronic Document Management System.
Contact Jentroy Uganda for a secure document storage and information management solutions in Uganda.
HOTEL, BAR & RESTAURANT - Hotel/Motel Management Software (HMS)

It is a complete solution, beginning with reservations and check in/check out, and ending with billing and tax reports. Covering from Bar, Restaurant & Hotel. The user interface is carefully optimized for high speed input and the prevention of common mistakes. It's designed for using on multiple computers, and contains reliable and secure authorization levels.
By standardizing the entire hotel management process, the software radically improves quality of guest handling and accounting.
Our software is unmatched, we use images for menu items to allow for faster navigation, reports are amazing and the program itself is fully configurable and friendly.
It's easy to install and easy to use. Very affordable licensing allows this software to be used in any environment from small family-owned hotels and hotel to large chains. get details
FINMAXX Micro-finance System

FINMAXX supports cash transactions, cheque transactions, transfers from the client's savings account(s) to loans and shares.The user can define several cash accounts and each cashier can be linked to his/her own cash account.
FINMAXX Micro-finance System is the result of years of intensive research and development. It thinks like you do and works the way you do. Whatever the size of your business - small, midsize or multinational conglomerate - and whatever the size of your loan portfolio, three loans to hundreds of thousands - our system can do the job.
FINMAXX handles both individual and group clients. Savings and Loans can be tracked at group level or at group-member level. This makes the program suitable for Solidarity lending, Village-Banking and Grameen-type lending.
Get peace of mind because our system is Secure, has Bullet-proof Accounting, Field-level restrictions and Real-time reports - Manage Savings & Loans
Micro-finances - Saccos - Money Lenders - Lending Associations/Clubs
INVENTORY PLUS - WAREHOUSE & STOCK CONTROL SOFTWARE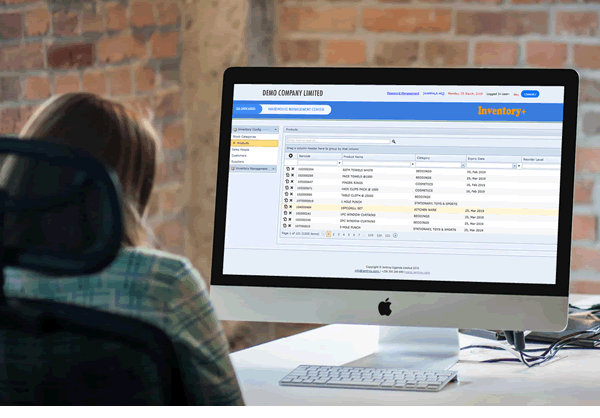 Warehouse inventory control can be difficult, but the right solutions and systems can ease the challenges your business may face.
As specialistS in this software industry, we get to work with businesses as they transition from not having a centralized, real-time inventory system to using a system that allows their business to control the various aspects of their operations more efficiently.
With InventoryPlus, you have a single unified point of control, reducing data entry and giving you a single end-to-end view of your supply chain.
We are talking about a fully integrated POS and Inventory allowing you to track your inventory in real-time while you sell from one seamless system.
Learn more about Jentroy's Inventory Plus Software... give us a call or complete the form here for a specialist to contact you
SCHOOL ASSISTANT - School Management Information System (SMIS)

Our School Assistant is a complete School management software solution. The Software provides quick and easy access to your Students and teachers Information, Manage Academics (Marks, Grading, Report Cards), Manage Finance (Bills, Fees Payments, Assets, Liabilities, Income, Expenditures mgt), Teachers' Payroll e.t.c
SIS is built to let you gain time to focus on the important things rather than losing time completing everything by hand . Our system goes above and beyond to help you get an efficient service at an affordable price in a timely manner.
Computerized School Administration Systems have been around for a long time... However, few are satisfactory, and fewer still possess all the features required by schools - This is the one essential reason to choose us.
Ezi Accounting System for Business

Ezi Accounting has been given a 5 star rating by several leading download sites including Best Software 4 Download, Shareware River,Sofotex and Top Shareware. Ezi Accounting has an average rating of 3.9 out of 5 on Softpedia.
Ezi Accounting has a very simple user interface with powerful security. Ideal for consultancies, service companies, manufacturers, small to medium sized businesses. Integration is included for web stores like OpenCart.
Ezi Accounting combines ease of use with the power of the Internet, it allows the user to email documents as they are entered to clients, suppliers and contacts. Features include an easy to use interface and multi-level security on all screens.
Features
• Aged clients • Assets, liabilities, equity, income, cost of sales, expenses • Bank reconciliation • Chart of accounts • Clients details • Clients statements • Diary • Flexible date format, paper size, currency, tax name • Import / export in standard formats • Inventory System • Invoicing / quotation • Journal posting & entry posting • Payments received • Payments to suppliers • Purchase Analysis • Purchasing / purchase orders • Sales analysis • Setup of E-mail • Standard accounts reports • Stock details • Stock groups • Stock adjustments • Stock analysis • Supplier details • Tax file maintenance • Telephone directory • User file maintenance • Web store integration (including OpenCart)

Track the entire lifecycle of an asset/capital equipment from procurement to disposal with Jentroy's Fixed Asset Management Software (Asset Manager).
Say good-bye to Spreadsheets. Asset Manager generates the depreciation schedule of an asset, reduces closing time and optimizes tax benefits. Now your tax and accounting professionals can ensure accurate and compliant results.
Asset Manager supports multiple depreciation methods including Straight Line, Double Declining Balance e.t.c
Because integration with other systems is straightforward with our software, there is no need to settle for the shallower functionality you get with other products.